Painting was crucial breakthrough for patient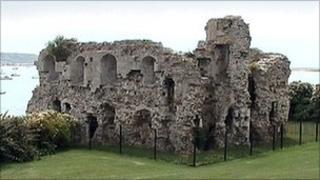 The staff at a community hospital in Dorset, Weymouth have come up with an innovative art collection to enhance its patients' surroundings.
Staff at Weymouth Community Hospital have hung a number of paintings in the dementia day care centre to help patients' therapy.
A painting of Sandsfoot Castle by Dorset artist John Everett became crucial in the treatment of a very withdrawn patient.
It shows the famous landmark of the castle built by Henry VIII on the edge of the cliff overlooking Portland Harbour.
After never speaking, the 80-year-old patient was able to recount his childhood experiences in Portland and career in the Navy.
Eventually he was even able to remember the name of the place in the painting, donated to the hospital 10 years ago.
Lesley Benham, team leader of the Melcombe Day Hospital said: "There's a lot of therapeutic benefit in using paintings - we've seen huge positive outcomes."
In the nursing room where patients get very agitated, the staff use the paintings as an intentional diversion.
Pictures with harbour scenes and boats have been chosen to have a calming influence.
Sea painter
Born in 1876, Dorset artist John Everett is renowned for his painting of marine landscapes.
After studying in London and Paris, he embarked on 16 sea voyages during which he painted vociferously.
He friends included writer Thomas Hardy and fellow artist Augustus John for whom he found Alderney Manor near Poole. John turned it into a bohemian commune for writers and artists.
The paintings have all been bought by the staff from car boot sales and charity shops, with their own money and carefully chosen to help stimulate the memories of patients.
The BBC, in partnership with The Public Catalogue Foundation and collections across the UK, has launched the groundbreaking Your Paintings website.
Your Paintings will bring together all these artworks, with the stories behind them, and where to see them for real.