Danilo Restivo in Heather Barnett hair in hand murder denial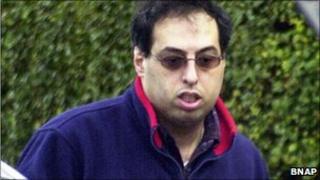 A man accused of mutilating a woman has denied that comforting her children on the day of her death was a "repulsive charade".
Danilo Restivo, 39, took to the stand to deny killing Heather Barnett, 48, at her Bournemouth flat in 2002 and placing strands of hair in her hand.
He admitted cutting women's hair as he liked the touch and smell of it.
But when asked if comforting Ms Barnett's children was a "repulsive charade", he replied "it was sincere".
Mr Restivo, who the prosecution has linked to the disappearance of a girl in his native Italy, denies murder.
Internet chatroom
The prosecution says Mr Restivo has a hair fetish and left a clump of someone else's hair in Ms Barnett's right hand and some of her hair under her left hand.
He told Winchester Crown Court he first cut someone's hair at the age of 15 in Italy as part of a bet.
He liked the touch and smell of it and continued to cut hair and had sought help from psychologists because he could not stop doing it, the jury was told.
Mr Restivo came to Bournemouth in 2002 to move in with his now wife who he had met on an internet chatroom, he told the court.
He said he met Ms Barnett on one occasion a week before her death when he asked her to make some curtains for his now wife.
He told jurors he left a green towel as a colour match which he said explained why police found a minor trace of DNA on the towel which matched his profile.
Giving evidence Mr Restivo said: "I have never killed anybody."
'Insects for reptiles'
Mr Restivo also denied he knew that the liquid he put in his bath to clean his trainers, which police found at his flat five days after the death, was bleach.
The court heard he could not smell it due to his poor sense of smell and his English was not good enough to understand the writing on the bottle, which he thought was cleaning soap for the floor.
The trial has previously been told during a surveillance operation police stopped Mr Restivo and found a knife in his car and a bag containing tissues.
He told jurors he had found the knife and intended to hand it in and had used the bag and tissues to collect insects for his pet reptiles.
Prosecutors say the manner in which Ms Barnett was murdered can be considered Mr Restivo's "hallmark" and have linked the killing to the murder of 16-year-old Elisa Claps in Potenza, Italy, in 1993.
Mr Restivo admitted meeting Miss Claps on the day she disappeared but said they spoke for about 10 minutes before they went their separate ways.
He told the court on his way home he fell down some stairs on a building site and was treated in hospital for bruises and cuts to his hand.
The trial continues.