'Have an affair' poster in Dorset criticised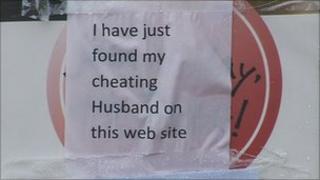 A poster in Dorset for a website offering married people the chance to have an affair has been criticised.
The advert for www.AffairsDating.net has been put up by a row of shops in Poole and near a church.
A number of residents have voiced opposition while anonymous signs have been stuck on the poster claiming to have found their spouses on the site.
Affairs Dating refused to comment but said it planned to roll out its advertising campaign nationwide.
The site, which is registered in Poole and is one of many similar on the internet, advertises to "likeminded people who are looking to have an affair, when divorce is not an option".
'Cheating husband'
Pastor Matthew Hosier, from the nearby Gateway Church, said: "A marriage is meant to be faithfulness, it is meant to be fruitfulness and is meant to be living for the other person rather than yourself.
"So a website which is designed to cut against all those principles which are what the church has taught for the last 2,000 years I would see as a very negative thing."
A number of notes have also appeared on the poster.
One read: "I have just found my cheating husband on this website."
But people who use similar sites have defended the service.
One man, who did not want to be named, said: "My marriage is an unhappy marriage. [After] 30 years of marriage people presume you are happy and everything is wonderful but it is not.
"My wife is an alcoholic, and as I only have one life I just feel the need to go out and find women company."
The website claims to have two million members.