Murder accused Danilo Restivo 'could not explain DNA'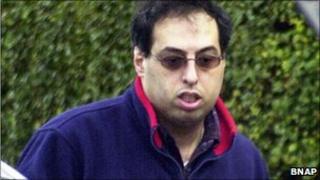 A man linked to the murder of an Italian teenager was unable to explain to jurors how his DNA was found on her jumper, a court has heard.
Danilo Restivo, 39, is on trial at Winchester Crown Court for the murder of Heather Barnett, 48, who was found dead in 2002 at her Bournemouth home.
Mr Restivo, who denies murder, has also been linked to the death Elisa Claps, 16, who went missing in Italy in 1993.
Both victims were stabbed and had some of their hair cut off, jurors heard.
When Michael Bowes, QC, prosecuting, reminded Mr Restivo: "Your DNA was found on a pullover close to a stab wound on her (Elisa's) back," the defendant replied: ''I can't give any explanation.''
Earlier in the trial, Mr Restivo took to the stand to deny killing Ms Barnett at her flat in 2002 and placing strands of hair in her hand.
When Mr Bowes asked Mr Restivo: "Do you agree that in each case the killer liked cutting hair?", he replied: "I don't know this."
The Italian admitted under cross examination to cutting the hair of six girls in England since moving in Bournemouth in March 2002.
Mr Bowes said: "I suggest to you a certain amount of stalking and planning went into hair cutting episodes."
Mr Restivo replied: "No, it wasn't planned and I wasn't stalking them."
The prosecution says Mr Restivo has a hair fetish and left a clump of someone else's hair in Ms Barnett's right hand and some of her hair under her left hand.
The defendant told the court he first cut someone's hair at the age of 15 in Italy as part of a bet.
Mr Restivo liked the touch and smell of it and continued to cut hair and had sought help from psychologists because he could not stop doing it, the jury was told.
He said he met Ms Barnett on one occasion a week before her death when he asked her to make some curtains for his now-wife.
The trial has previously been told during a surveillance operation police stopped Mr Restivo and found a knife in his car and a bag containing tissues.
He told jurors he had found the knife and intended to hand it in and had used the bag and tissues to collect insects for his pet reptiles.
Prosecutors say the manner in which Ms Barnett was murdered can be considered Mr Restivo's "hallmark", and have linked the killing to the murder of 16-year-old Elisa Claps.
Mr Restivo admitted meeting Miss Claps on the day she disappeared but said they spoke for about 10 minutes before they went their separate ways.
He told the court on his way home he fell down some stairs on a building site and was treated in hospital for bruises and cuts to his hand.
The trial continues.