Hair-in-hand murder accused Danilo Restivo stalking denial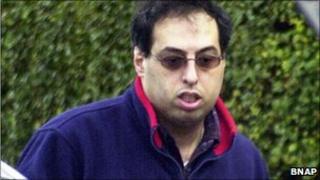 A man accused of killing a woman inside her Bournemouth home has denied stalking women in the area.
Danilo Restivo denies murdering Heather Barnett, 48, whose mutilated body was discovered by her children inside her flat in 2002.
At Winchester Crown Court he was shown video in which he is seen bending down as a woman passes by.
Mr Restivo, 39, told the court he kept reptiles at home and was bending down to collect insects to feed to them.
'Enjoy nature'
During the second day of cross-examination, the prosecution put it to the Italian that what he had been doing at Throop was stalking women.
He said: "No, no, no, I was simply there to relax and enjoy nature, I have never stalked women."
The prosecution asked: "Even on buses?
Mr Restivo replied: "On the bus, that was not stalking for me."
The prosecution say Mr Restivo has a hair fetish and targeted females on buses in the area.
Ms Barnett had a clump of hair in her hand when she was found dead, the court had been told.
Prosecutors say the manner in which Ms Barnett was murdered can be considered Mr Restivo's "hallmark", and have linked the killing to the murder of 16-year-old Elisa Claps, who went missing in Italy in 1993.
Mr Restivo admitted meeting Miss Claps on the day she disappeared but said they spoke for about 10 minutes before they went their separate ways.
The trial continues.