Lion paw prints on beach mark Pride of Bournemouth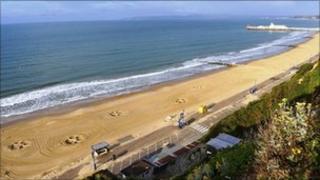 Bournemouth beach has been covered in giant lion paw prints for an art event.
Fifty volunteers spent the night digging 32 6m (20ft) by 6m (20ft) prints in the golden sand with shovels near Bournemouth Pier.
Each 1ft (0.3m) deep print took an hour to create, the last paw was finished at about 0630 BST on Thursday.
The spectacle marks Pride in Bournemouth, a public art event that will see 50 life-size lion sculptures placed in the streets of the town.
Lit by tractors, the volunteers worked for almost 12 hours removing 1.5 tonnes of sand to create each paw print.
Charlie Langhorne, director of Pride in Bournemouth said: "It's been absolutely extraordinary it looks very surreal.
"The idea is for people to become a tourist in their own town, follow the lions and you might go to a place you haven't been to before."
From Saturday the life-size fibreglass lions, painted by local artists, will be displayed around the town's streets and in public gardens until the end of August.
Specially designed trail maps have been made to guide visitors on a walk around Bournemouth to see the pride of 50 different four-legged statues - including one by Banksy.
At the end of the project, the lions will be auctioned to raise funds for two charities, Dorset hospice, Julia's House and The Born Free Foundation.
The lion pride also extends to a number of mini lions, which have been designed and decorated by thousands of schoolchildren.
The cubs will be on display until September in Beales department store and Richmond Gardens Shopping Centre.