'Hand in hair' accused denies stabbing girl to death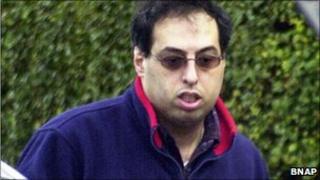 A man allegedly linked to the murder of a teenager in Italy denied stabbing her and accidentally cutting his hand on the knife, a court has heard.
Danilo Restivo, 39, is linked to the death of Elisa Claps, 16, who went missing in Potenza, in 1993, the jury has been told.
Mr Restivo is on trial at Winchester Crown Court for the murder of Heather Barnett, 48, in Bournemouth in 2002.
Both victims were stabbed and had some of their hair cut off.
'Invented person'
Mr Restivo, an Italian national, told jurors he met Elisa at the Church of Holy Trinity in Potenza after Mass on Sunday 12 September 1993.
He claimed Elisa invited him into the church where they talked behind the altar about a man who was "pestering her", before he saw her leave.
But during the third day of cross-examination, Michael Bowes, QC, prosecuting, put it to Mr Restivo that he had invented a person who killed her.
Earlier Mr Bowes showed photographs of the church loft to Mr Restivo and suggested this was where he had murdered Elisa.
Mr Restivo repeatedly insisted he last saw Elisa leaving the church.
And he denied he cut himself on a knife during a struggle with Elisa.
"I got injured on an escalator", Mr Restivo said.
The prosecution says Mr Restivo has a hair fetish.
Ms Barnett had a clump of hair in her hand when she was found dead.
Prosecutors say the manner in which Ms Barnett was killed could be considered Mr Restivo's "hallmark", and they have linked the killing to the murder Elisa.
The trial continues.