Olympic campaign for Weymouth Punch and Judy act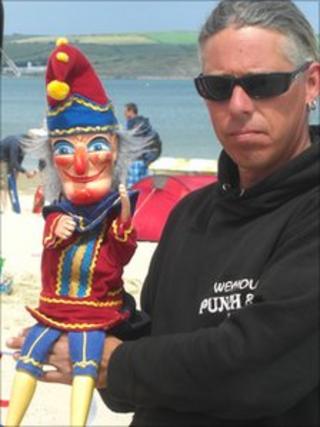 A Punch and Judy show is set to advise tourists "That's the way to do it" in a poster campaign in Dorset ahead of the Olympics 2012 sailing events.
Mark Poulton, who performs the show on Weymouth beach, is to feature in a billboard campaign with the character.
Weymouth and nearby Portland will host the sailing events for the 2012 games.
The adverts, chosen by the Olympic Delivery Authority, will advise people to think about their travel patterns because of the number of visitors.
They will feature across Weymouth and Portland, where up to 50,000 visitors are expected to travel during the games next July.
Tickets have already been snapped up for the sailing events, which will be hosted at Osprey Quay, home to Weymouth and Portland National Sailing Academy.
Park charge 'nonsense'
The Olympic Delivery Authority - responsible for developing and building the new venues and infrastructure for the games - chose Mr Poulton's act for the poster campaign because Punch and Judy is a familiar site on the seafront, having been first performed in the 1880s.
"It's good for Weymouth, good for Mr Punch, and good for the Olympics," said Mr Poulton, who has been performing his act on the beach since 2005.
"It's one of the very last resorts in the country which has still got a professional Punch and Judy on it - appearing most days, not only is it the Olympics, next year will be Mr Punch's 350th birthday."
Another advert will feature a sandcastle with world flags flying from it, to highlight to number of people flocking to the area.
An Olympic Delivery Authority spokesman said: "Whilst clearly we want to encourage visitors to come to Weymouth and Portland next year at games time, we are using this advertising campaign to urge staying visitors, day trippers and local residents to think about their travel patterns in a different way and to plan ahead."
The organisers of the Games came under criticism at the weekend over a plan to fence off a public park, preventing people from watching part of a sailing event.
The London 2012 Organising Committee (Locog) wants planning permission to fence off Nothe Gardens in Weymouth, Dorset and would charge for tickets.
Local councillor John Burtwistle branded the idea as "nonsense" but Locog has claimed it would aid "safety and crowd-control".
Another idea is to erect a 173ft (53m) £3m viewing tower on Weymouth seafront.