Missing Dorset scallop diver watched own rescue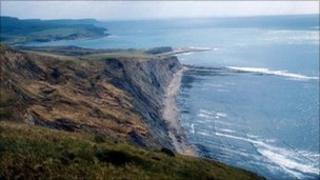 A scallop diver missing for four hours watched his own rescue search while managing to swim safely to shore.
Rescue teams were called off Lulworth Cove, Dorset, on Friday after the man, wearing a black wetsuit, failed to surface with his friend.
However, the diver turned up four miles (6.4km) away after being overcome by waves and swept away.
He told the coastguard he had seen crews searching for him but was unable to attract their attention.
The diver was spotted just after 1915 BST on the shoreline of Mupe Bay, to the east of Lulworth Cove.
Andy Jenkins, watch manager at Portland rescue centre, said if the diver had worn a wetsuit with a device fitted to attract attention, it would have saved him from a lengthy swim to shore.
"It's very unusual for a diver that's been missing for nearly four hours to turn up safe and well," he said.
"Although a highly experienced diver, the strength of the tide made it impossible for him to hold the line to the boat and he was swept away.
"Black wetsuits are very difficult to spot in the water but there are a number of devices that divers should carry to attract the attention of rescuers if they get in to difficulty.
"These range from dye bags to surface marker buoys, reflective mirrors and personal locator beacons."