Public sector staff rally in Dorchester over pensions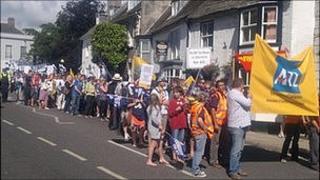 About 500 striking public sector workers have marched through Dorchester for a rally, followed by a picnic.
Members of two teaching unions walked out, which affected 123 out of 249 schools, over planned pension changes.
Rob Davison, teacher at Dorchester's Thomas Hardye School, said: "This is just too much, I feel like we're an easy target and we're being hammered."
Civil servants are also staging a 24-hour strike over pensions as well as job and pay cuts.
Mr Davison said: "We've had a wage freeze already, we're being asked to work longer and contribute more. Where's the tax on the bankers, where's the Robin Hood tax everyone's been talking about?"
The National Union of Teachers (NUT) and the Association of Teachers and Lecturers (ATL) joined forces with the Public and Commercial Sector (PCS) union and the University and College Union for the march.
Pamela Jefferies, from the Dorset branch of public sector union Unison, said: "This shows the feeling of teachers and civil service workers against what the government are trying to do to all our pensions, which is just absolutely outrageous."
Geoff Cooke, NUT Dorset secretary, said that they were out to "make a media stir, not to damage communities or children's education".
He added: "Dorset being a very quiet rural area, for most teachers it will be the first time they have taken any industrial action, which gauges the strength of feeling over this."
Dorset County Council confirmed that 56 out of 173 schools had closed and 32 partially closed.
Out of 38 schools within the Poole borough, 17 shut and four partially shut.
Stephen Booth, who is an administration manager at Nothe Fort in Weymouth, said he had to take two of his children and one of their friends to work with him after their school was closed.
He said: "I feel personally that this [the strike action] is not going to go anywhere, they are not going to get what they want.
"They are going to have to compromise, the government will win the day.
"I haven't got that much sympathy for the teachers."
Cabinet Office Minister Francis Maude said: "Strike action is unnecessary and premature while discussions - set up at the request of the TUC - are ongoing."
South West PCS representative Gordon Rowntree said that Department for Work and Pensions offices in Bournemouth and Weymouth had picket lines.
"In relation to Dorset, job centres and tax inquiries centres will have very limited services," he said.