Otter photo suggest numbers boom in Dorset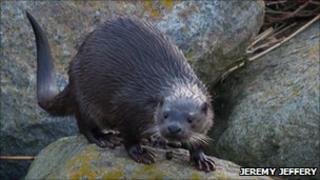 Photographs of an otter taken by a tourist in West Bay is evidence of a continuing growth in numbers in the county, Dorset Wildlife Trust has said.
The mammal was once thought close to extinction due to hunting and the use of certain pesticides, both now banned.
Dr Rachel Jones from the Trust said: "This is the sort of photo you might expect from Scotland. It shows how well otters are doing in Dorset now."
Photographer Jeremy Jeffery, visiting from Kent, took the photos at West Bay.
The pictures are particularly significant as it is rare evidence of the mammal in coastal - as opposed to river - waters.
New territories
It means otters numbers are at a high enough level for them to spread to new territories from their more traditional freshwater river habitats.
It also suggests Dorset's otter population could be stretching eastwards from the south west and helping to boost the smaller otter populations of the south east of England.
Dr Jones said: "The otter population thins out if you go east. People in Blandford [in Dorset] see them regularly [on the Stour], but Kent still has a problem.
"There's evidence our otters are moving very slowly eastwards, and that's very important."
The national otter population's recovery has been further helped by improvements to habitats such as restoring river banks.
In Dorset, the Wildlife Trust said it had received more daytime sightings than ever before, from both the public and through its Dorset Otter Group, which looks for otters or signs of otters.
It said good places to see the otter were the Stour in Blandford, Radipole Lake in Weymouth and the Frome throughout Dorset.