Lyme Regis beach shelter launch will 'boost whole area'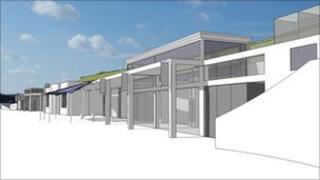 The completion of a £1.32m project developing a key area of a Dorset seafront will benefit the whole town, say the council.
The new Marine Beach Shelters in Lyme Regis is a mix of shelters, shops, performance and community space.
Vickie Stickler, from Lyme Regis Town Council, said: "It's transformed an underused space into an asset and we hope it will encourage visitors into the town. Many only come to the beach."
The shelters open on Saturday.
Ms Stickler has helped organise the opening day's events, which include contributions from local arts groups, a rededication of the town's restored clock and musical performances.
She said: "People are very excited here about the opening.
"It's putting something at the heart of the seafront and is one of the biggest building projects the town has seen in years."