Portland biofuel protesters target W4BUK plant plans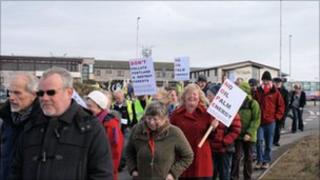 Campaigners in Dorset have been protesting against plans for a biofuel power station on Portland.
Members of the No Oil Palm Energy (NOPE) group said they were objecting to the international, environmental and social impact of the plant.
W4BUK, the company building the plant, has said it would be sustainable.
The protesters also had a web link-up with Columbia, from where palm oil could be exported to power the plant, to show the impact it has there.
It claims the plant on Portland would burn 35,000 tonnes of palm or other vegetable oil every year, requiring land, in "vulnerable" parts of the world, that are "half the size of Dorset".
'Renewable sources'
Andrew Butler form NOPE said: "People are standing up against these polluting, unsustainable biofuel schemes and taking action to provide a voice for those affected at home and abroad."
Protesters from Bristol, where there are plans for a similar biofuel site, have also joined the campaign.
Plant builders W4BUK say the site, at Balaclava Bay, within Portland Port, is close to the dockside and oil will be delivered, via a pipeline, to storage tanks alongside the power plant, to generate electricity.
When operational, it says the plant will deliver more than 20% of Dorset's agreed contribution to the UK's national target to obtain 15.4% of its electricity from renewable sources by 2015.