'Continuing need' for 'unprofitable' rural buses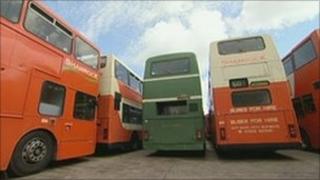 The closure of bus company Shamrock has highlighted the reliance many residents have on local bus services, particularly those in rural areas.
After the Poole-based company went into administration, five schools were temporarily left without any transport.
Dorset transport campaigner Martin Hill said demand for rural bus services in Dorset was actually "fairly steady".
But, with unprofitable, poorly used services cut, he said many rural villages had no buses at all.
He said: "We'd become accustomed to having buses in the countryside, but unless you're elderly or you need to get to school, everyone else has a car.
"If you do see a bus going through rural Dorset you're lucky if you see more than two people on it."
Unprofitable routes
He said unprofitable rural bus services were further reduced after central government cut funding.
Last October the Coalition government announced a 26% cut in the national £60m rural bus subsidy grant.
This money was given to councils to help bus companies serve unprofitable routes in rural areas.
He said in Dorset's towns, demand for some of the county's bus services was growing.
The 31 double-decker bus service operated by First, which runs from Dorchester to Axminster, has just begun running without a subsidy.
Mr Hill said: "The service is often packed but it runs from town to town, rather than through villages."
Community services
The result is that specialist so-called "community services" have developed to help rural villages instead, such as the North Dorset Community Accessible Transport (Norcat).
It provides a minibus service run by volunteers for people who do not have access to any transport.
Norcat's manager Helen Reed said: "Our passengers say to me on a regular basis 'I don't know how I would get around without you'."
The 19-bus service, which is marking its 10th anniversary this year, mainly relies on fundraising and grants from local town and parish councils.
Mrs Reed said: "When we first started several bus services had cut back on their village services as it wasn't viable.
"There's no point running a bus through a village three times a day."
The routes and services of Shamrock are to be taken over by other firms, but the reasons behind its demise could also prove a problem for many other small, commercially-run transport businesses.
Insolvency specialist Mark Liddle, who closed the company down, said: "It couldn't compete against national companies. It can't also just carry on not being able to raise prices with increased fuel charges.
"It just ran out of cash."