Gene Benjamin jailed for string of rapes in Bournemouth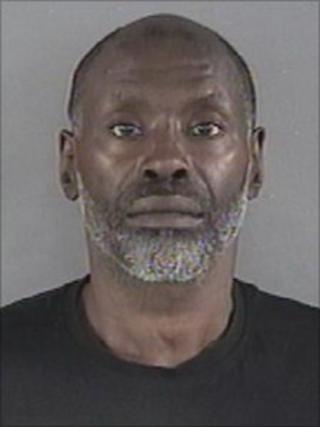 A serial rapist who targeted women in a Dorset town over six years has been given four life sentences.
Gene Benjamin, 53, was convicted in May of seven rapes and nine assaults from 2005 to 2010. He had denied the offences.
Bournemouth Crown Court heard most of the women attacked worked as prostitutes in the town.
Police think many more were attacked but were too scared to report him. Benjamin must serve at least 11 years.
Sentencing, Judge Samuel Wiggs said: "The victims were entitled to protection from the law. You are to be regarded as dangerous."
Benjamin, known as Barry, of Belle Vue Road, Southbourne, Bournemouth, was arrested and charged last summer.
He was charged with 18 counts of rape, nine counts of assault occasioning actual bodily harm, one count of grievous bodily harm and one count of false imprisonment.
He was found guilty of seven counts of rape, eight counts of assault occasioning actual bodily harm, and one count of grievous bodily harm following an eight-week long trial.
'Horrific offences'
Det Sgt Lindsay Dudfield said she was happy with the life sentences, adding: "We hope this sends out a positive message to victims of violent and sexual crimes and they have the confidence to report these offences to the police.
"They will be taken seriously and justice will be done.
"These were horrific offences spanning many years and many victims - in excess of 25.
"He used weapons against a vulnerable community who were reluctant to seek the help of the police as they thought they would not be believed or did not have the courage."
Det Ch Insp Kevin Connolly said the case had "brought one of Dorset's most dangerous sex offenders to justice".
He said it was "a long and complex investigation".
"He strangled them, raped them and attacked them with hammers and knives - cutting off their hair," he added.
"He did whatever he liked to humiliate them and make himself feel empowered."
'Vulnerable' victims
He said police began a special operation in July 2009 to try to persuade his victims to give evidence.
"Originally we approached his victims who had moved from the Bournemouth area, while monitoring his activity so that he didn't harm anyone else.
"This was necessary because Benjamin was still living locally and we had insufficient evidence to prosecute him.
"Eventually we were able to gather enough evidence to charge him with a number of offences, remand him in custody and secure the safety of those around him.
He paid tribute to the 10 women who gave evidence against Benjamin.
"They were very open about their own vulnerability through drug misuse, involvement in prostitution and the offences committed against them, which convinced the jury he was a serial sexual offender - a rapist."
"It's been a very difficult time for Benjamin's victims - dealing with their own personal difficulties, while also finding the strength to give evidence against somebody who was a real threat in their community."