Bournemouth rapist Benjamin fed victims' drug habits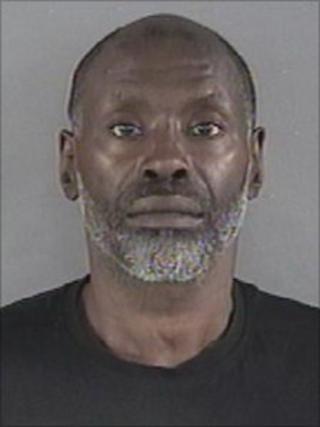 Over a period of six years, violent serial rapist Gene Benjamin, 53, cruised the streets of Bournemouth looking for vulnerable women to attack.
Most of his victims were prostitutes who, more often than not, were heavily dependant on drugs.
He gained their trust by taking them back to his home where he would feed their drug habits before subjecting them to terrifying sex attacks.
Many of his victims were too scared to give evidence against him.
Benjamin, a former crack addict, had been sent from London to Bournemouth about a decade ago for drug rehabilitation and had remained in the area.
Investigating officer Det Sgt Lindsay Dudfield said: "Over time we started receving information that he was raping and assaulting drug addicts and working women in Boscombe.
"We worked in partnership with the Dorset Working Women's Project, who are an outreach service. A lot of working women were telling them of these offences and they, in turn, told us."
'Nice guy'
As the picture of the violent rapist began to emerge, the public protection unit began an operation in July 2009 to try to secure the testimonies of the women Benjamin had attacked.
During his trial, Bournemouth Crown Court saw a video of one woman being interviewed by police. She told how she was homeless and working as a prostitute when he allowed her to stay in his flat.
"I'd heard he was dangerous... I thought that maybe he would be different with me. He really did come across as a nice guy," she said.
But one night, while she was suffering from heroin withdrawal symptoms, Benjamin came in and raped her.
She left the following day to stay in another flat but Benjamin, armed with an axe and a blade, tracked her down and threatened to cut her.
'No remorse'
"He picked me up by the throat. My feet were off the floor. I didn't know whether I was dying," she said.
Det Sgt Dudfield said the worst act of violence was a hammer attack to the head of one his victims.
Dorset Police began their invesigation by approaching Benjamin's "low risk" victims - women who were no longer in prostitution and no longer addicted to drugs, who had moved away from the area.
When detectives had gathered sufficient evidence, Benjamin was charged and remanded in 2010.
Officers then began making approaches to the "high risk" women - who were still living in the area and still prostitutes - to ask for their help in the investigation.
Benjamin was convicted of offences against nine women in total.
Det Sgt Dudfield described him as an "incredibly dangerous offender" who showed no remorse and refused to comment throughout his police interviews.
"Many of the offences will have gone unreported," she said.