Lapland park man Henry Mears 'threatened barrister'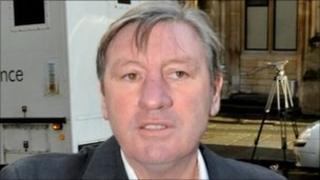 One of two brothers jailed for running a Lapland theme park on the Hampshire-Dorset border has appeared in court accused of threatening a barrister.
Henry Mears, of Coombe Road, Brighton, is alleged to have made comments taken as threats of violence to barrister Gary Lucie during his original trial.
He is also accused of making a further comment outside the court about punching the barrister in the face.
Mears, 60, appearing at Bristol Crown Court, denies contempt of court.
Giving evidence, Mr Lucie said Mears told him that "mechanisms were in place to hold those responsible" for bringing the Lapland trial to court.
Mr Lucie, who had been prosecuting the case on behalf of Dorset Trading Standards, said Mears' demeanour and body language had appeared threatening.
Felt ripped off
He said he was so shocked by the threat that he brought the matter to the attention of the Lapland trial judge.
The alleged incident on 29 November led to Mr Lucie stepping down and a new prosecution barrister had to be found.
Judge Mark Horton decided the allegation was so serious that it should treated as a contempt of court.
Mears and his brother, Victor, ran the Lapland New Forest attraction in 2008.
They were each jailed for 13 months in March after they were convicted of eight charges of misleading the public.
They were prosecuted after thousands of customers complained of being ripped off and misleading advertisement.
Both have since been released from prison but are subject to a home-tagging detention curfew.
Giving evidence at the summary trial Mr Lucie said that Judge Horton had adjourned the case that afternoon after Victor Mears, 67, had been taken ill and was sitting at his desk.
"The judge had risen and Henry Mears came past me and he said to me words to the effect of 'you can see he's an ill man. Mechanisms are in place to hold those responsible for this [trial] and he shouldn't be on trial'.
"He was leaning over me and it was not said in a jovial way. He was angrily pointing at me.
"I was shocked, actually. It was not something I have ever experienced before.
"The court logger said to me 'has he just threatened you?'
"It was not 'I'm going to get you' - it was more subtle than that."
'Slowly and angrily'
Another incident took place minutes later outside the courtroom in the presence of the brothers and their legal team.
"Henry Mears showed me his inner lip and said it was bruised, and said he had been assaulted in the pub because of this case," Mr Lucie said.
"I said that should not have happened and then he put his arm around me and said something like: 'Calm down, young man', and then he said something about punching me in the face."
Betty Monkton, court logger, told the court she also heard the alleged first threat being made.
"He [Henry Mears] was stood at the side of him, leaning over him," she said.
"It was said slowly and angrily, I felt, and it was the tone that caught my attention and it was because of the words that I looked up.
"Mr Lucie was sat down and Henry Mears was leaning right over him and I just had the feeling he was threatening him.
"It was his body language and his demeanour that made me feel that."
The trial is expected to continue into Tuesday.