Talbot Heath development plans face inquiry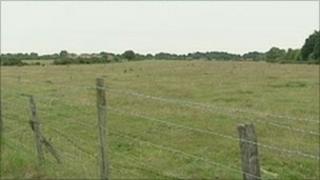 Campaigners hope a public inquiry looking into proposals to build on an area of land near the Bournemouth-Poole border will halt the plans for good.
Landowner Talbot Village Trust proposes 378 homes and accommodation for 450 university students on a greenfield site next to heathland, which is known locally to some as a "green lung".
Permission for the development was first sought in 2000.
Eventually, revised plans were approved by Poole Borough Council in June 2010.
The authority has a target to provide 3,500 affordable homes by 2026 and the Talbot Heath development would meet 40% of this requirement, said the trust.
But as well as residents, objections have come from Natural England, the RSPB and Bournemouth Borough Council.
Their issues focus on environmental, wildlife and traffic concerns in and around the site, on land south of Wallisdown Road in Poole.
The new homes are earmarked for land once used for farming and no longer considered suitable for that use, said the trust.
It has also said it will carry out "improvements" to the area of heathland directly next to the site and that no building work will be carried out on the heath itself.
'Under threat'
Last September, the Secretary of the State for Communities and Local Government Eric Pickles instructed Poole Council to postpone its planning consent for the development, which led to the inquiry.
James Gibson Fleming, from the trust, said its application included measures to improve and protect the adjoining heathland.
He said: "We're extending it on to farmland - and we're providing a lot of accommodation for local people.
"And as a charity, anything that's made out of this goes back to the local people."
Local resident and campaigner Veronica Trevett said: "We've always been told there's no building within a 400m zone of heathland, but if this development goes ahead it could set a precedent for other heathland areas in Poole and parts of England.
"We feel that our open space is under threat and we want to protect it."
The inquiry, which began on 12 July, is expected to sit for two weeks. A final decision is expected at the end of year.