Poole to Cherbourg ferry service trial to end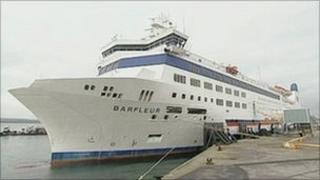 A cross-Channel ferry service between Dorset and France, which was resumed on a trial basis, is to be withdrawn at the end of the summer.
The Barfleur ferry, which runs between Poole and Cherbourg, was withdrawn in March 2010 but resumed in March 2011 on a seven-month trial.
Brittany Ferries said the last sailing would be on Monday 3 October.
The company blamed the move on the "depressed state of the economy", a lack of freight and high oil prices.
Commercial passenger director Mike Bevens said: "Whilst support for the service by the local community has been very positive, it has not been enough to deliver the required revenue."
Mr Bevens said it had been a difficult decision but the operation would be "unsustainable" during the winter months.