Osmington White Horse undergoes turf cutting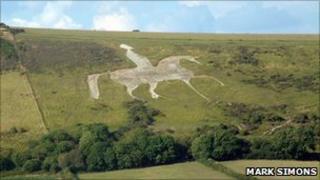 Work has begun to restore the turf around the Osmington White Horse monument in Dorset.
Volunteers have begun correcting the shape of the 260ft (79m) figure, which overlooks Weymouth Bay.
Ordnance Survey and English Heritage experts have spent the past few months identifying the original outline.
The shape was carved into the hills in the early 19th Century but has been gradually "degraded" over time, according to Ordnance Survey.
Volunteers working on the project include children from Thomas Hardye School in Dorchester, Dorset Army Cadets and Weymouth Senior Scouts.
Ordnance Survey and English Heritage are helping to restore the horse ahead of the 2012 Olympics, when Weymouth and Portland will host the sailing events.
The monument was created in honour of George III, a frequent visitor to the town on his favourite grey charger.
It was created by local people in 1808 by removing the topsoil to reveal the bedrock of the South Dorset Ridgeway underneath.
A failed attempt was made to revamp the figure by BBC TV programme Challenge Anneka. Inappropriate materials were used and the work degraded afterwards.
In 2010 Ms Rice apologised and offered to help repair the landmark herself.