Lifting leaves of Poole's Twin Sails bridge put in place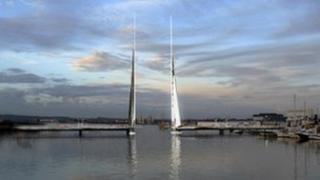 The first "sail" of the new Twin Sails bridge in Dorset has been moved into place.
The operation is a major milestone in the construction of the bridge which will span Backwater Channel between Hamworthy and Poole.
The first of the 30m (100ft) lifting leaves was floated into position at about 1600 BST. The second section will be moved into place on Wednesday.
Building began on the bridge in October 2010. It is scheduled to open in 2012.
'Huge challenge'
The bridge deck and lifting leaves are made up of 41 separate sections of steel which have been welded together on site over recent months.
Council strategic director Jim Bright said: "Moving more than 500 tonnes of steel safely from dry land to the Backwater Channel is a huge technical challenge.
"The sheer scale and complexity of this engineering operation is remarkable and unlike anything we've witnessed before in Poole."
Backwater Channel is being closed to marine traffic between 0800 BST and 1800 BST on Monday and Wednesday while the operation is taking place.
Borough of Poole council has set up a public viewing area on West Quay Road for people wanting to watch the work being carried out.
The new bridge will provide improved links to 26 hectares of brownfield land, unlocking a large regeneration site where up to 2,000 homes could be built over the next 10 to 15 years.