Bournemouth council gardeners win gold at Tatton Park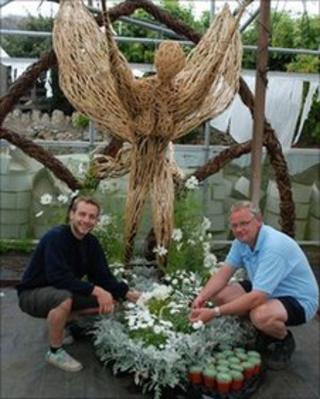 Garden designers from Bournemouth have won a gold medal at a national flower bed competition in Cheshire.
Bournemouth Borough Council was one of four gold winners at the Royal Horticultural Society's (RHS) National Flower Bed Competition in Cheshire.
The gothic-themed garden was created by nursery manager Chris Evans, landscape manager David Ifould, helped by the council's parks service and volunteers.
The bed will be recreated after the show in Bournemouth's Lower Gardens.
The flower bed competition, which forms part of the RHS Flower Show at Tatton Park, Knutsford, is open to local authorities and community groups who each have a 7m by 4m bed to display their designs.
The RHS selected 14 entrants to compete. Others included Harlech Women's Institute, Cheadle & Marple Sixth Form College and the Parish of St Helier.
'Museum inspiration'
Mr Evans said: "Our flowerbed depicts Bournemouth's fascinating Victorian literary heritage, symbolising light and dark, structure and chaos.
"We've used specially-made willow structures to create a gothic arch and a Victorian fairy. We've taken our inspiration from local history and paintings displayed in the Russell Cotes Museum.
"Our garden, which we've called A Novel Approach, represents the darker work of local authors including Jekyll and Hyde, Frankenstein and Shelley's poetry."
The flower bed was partly funded by the Royal Horticultural Society and sponsored by consulting firms Mouchel and Banyards and the council's housing and landlord services team.
The event is open to the public from Thursday to Sunday.