Ski lift idea for eroding cliff on Dorset's Jurassic Coast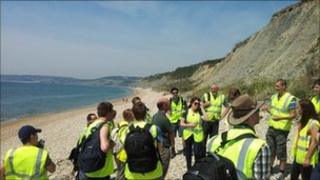 Ski lifts and fibreglass steps are among suggestions for providing continued access down an eroding cliff on Dorset's Jurassic Coast.
St Gabriel's Steps at Charmouth have to be relocated, on average, every two years because of the constant erosion in this protected area.
Doctorate research engineers presented the ideas to the National Trust, which manages the South West Coast Path.
Other solutions included modular steps that could be reassembled quickly.
The engineers, from the Stream Industrial Doctorate Centre, worked in four teams to develop their access proposals and presented them to National Trust officers in an Apprentice-style pitch.
'Ingenious ideas'
Rob Rhodes, of the National Trust's West Dorset office, said: "There were suggestions on how to improve the safety aspect of the steps by giving them a lower gradient, as well as plans to strengthen the steps by making them modular, so that they could come apart easily whenever a landslide occurs and then be reassembled quickly.
"The groups were given advice from geological experts on cliff stability, as well as from a civil engineer on how big and heavy the steps should be, and how best to attach them to a moving structure - i.e. the cliff.
"It was great to hear the students' thought processes. They had some ingenious ideas and really understood the brief, and it was fantastic to get a fresh set of eyes and minds to solve what is an ongoing problem."
The cliffs between Lyme Regis and Charmouth are among the most unstable in Britain.
In 2008 more than 400 metres (1,312ft) of the cliff was destroyed in a giant landslip, which exposed a former landfill site and blocked the beach below.
A £21m scheme to save the eastern part of Lyme Regis from falling into the sea is to begin in 2013.