Fine for boat master after rescue off Dorset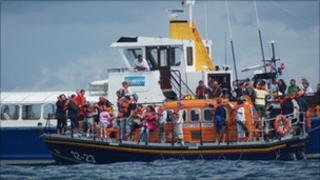 The master of a pleasure boat which ran aground off Dorset has been fined more than £3,000 for safety breaches.
Anthony Wilkinson, 59, pleaded guilty to two charges at Bournemouth Magistrates Court.
He was fined £3,015 for failing to maintain a proper lookout and for acting as a master when not qualified.
At the time of the incident, on 7 August 2010, the RNLI said 37 people had to be rescued from the boat when it hit rocks near Studland.
The Maritime and Coastguard Agency (MCA) said the vessel had stopped near Old Harry Rocks to allow a funeral party to scatter ashes and Mr Wilkinson had left the wheelhouse to check on the progress of the ceremony.
Two lifeboats were launched at about 1200 BST and the passengers were tranferred on to a rescue boat, the RNLI said.
The MCA said a subsequent investigation showed that Mr Wilkinson's Boatmasters' Licence was not valid for the area in which the Solent Scene was operating and that he had not complied with safety instructions by being so close to shore.
Mr Wilkinson's fine included £1,015 costs.