Dorset heath land to burn for fire research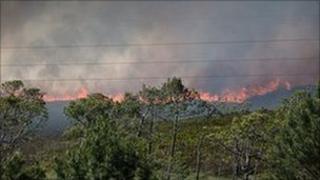 An area of Dorset heathland is to be set on fire as part of research into the effects of heath fires.
Dorset County Council said the week-long "research burns" at Blackdown near Martinstown would provide data on soil temperature and the effects of weather.
Robert Gould, from the council, said that wildlife in the area would be relocated before the fires.
It follows a fire at Upton Heath in June which destroyed 140 acres of heath land as well as rare wildlife.
'Vital information'
Mr Gould said: "Without this kind of detailed research our heaths will continue to burn out of control, our firefighters and homes will be put at unnecessary risk, and we may eventually lose our special heathland habitats altogether."
Prof John Dold, of the Fire Research Centre at Manchester University, who is also involved in the research, said: "There is a lot of vital information we don't have, such as the temperatures of the soil, the air and the fire itself, the effect of wind and slopes, which vegetation is most susceptible to fire, how it is able to spread so quickly, and so on."
The council said the fires would take place between noon and 15:00 BST from Monday till Friday and would be controlled by Dorset Fire and Rescue.