Tern nests on Brownsea Island protected by camping wardens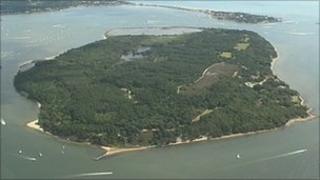 Wildlife wardens on Dorset's Brownsea Island have been sleeping near a bird nesting site to scare away predators.
Dorset Wildlife Trust said about 30 sandwich terns successfully fledged this year, compared with just three in 2010.
The wardens, who took it in turns to sleep in a hide, shone torches at herons when they came near the site.
Fences were also erected to stop deer and other mammals from trampling on the nests.
The trust's island manager, Chris Thain, said: "One expects a certain amount of predation, but we were determined to try to improve on last year when so many chicks were lost.
"We have been taking it in turns to sleep in the hide that overlooks the lagoon. When we heard the alarm calls of the terns, a torch was enough to scare off an intruding heron.
"This seems to have been effective and the numbers of terns fledging has improved."
The charity said sandwich terns have RSPB amber status as birds of conservation concern and depend largely on nature reserves for breeding sites in the UK.
After work to provide the right habitat for the terns by the trust's wardens and volunteers, the population has grown from six pairs in the 1960s to a busy colony.