Traveller site for Great Dorset Steam Fair approved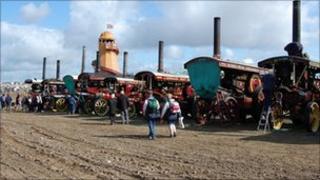 A caravan site to accommodate travellers at the Great Dorset Steam Fair has been granted planning permission for five years.
Dorset County Council gave approval for a Gypsy and traveller transit site on land at Tarrant Hinton, near Blandford.
It triggers special police powers enabling officers to move any illegally camped travellers on to the official site, or escort them out of the county.
Previous attempts to find sites have been met with opposition.
The county council, North Dorset District Council and Dorset Police, have worked with the steam fair organisers to tackle the problem of unauthorised Gypsy and traveller camps in recent years.
'Large influx'
When an official site has not been in place, travellers have camped illegally in and around local towns such as Blandford and Wimborne, leading to frequent complaints of trespass, anti-social behaviour and fly-tipping, the county council said.
Robert Gould, county council cabinet member for environment, said: "All parties have worked very hard to find a solution to this issue. We have listened to the views of local people, and we believe this site offers the best way forward.
"It will be a huge help in managing the large influx of Gypsies and travellers during the steam fair period each year."
The site - north-west of Tarrant Hinton and about half a mile from the showground at the Great Dorset Steam Fair - will open for three weeks around the dates of the annual steam fair, with this year's event taking place from 31 August to 4 September. It will be accessed from the A354 Salisbury Road.
The previous site, on the eastern side of the C25 Valley Road, was used from 2007 to 2010.