'Britain's fattest orangutan' Oshine loses 20kg on diet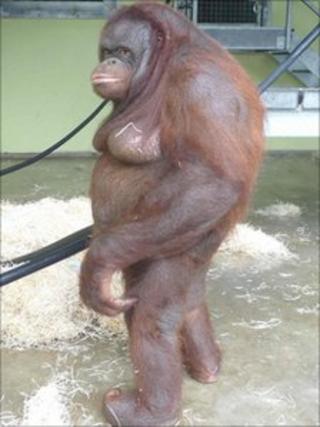 An orangutan said to be the fattest in Britain has lost a fifth of her body weight after being put on a diet.
Oshine tipped the scales at 100kg (15 stone) - more than double her natural weight - but lost 20kg (3 stone) in 11 months after a lifestyle change.
The 14-year-old ape has cut out sweets, jelly and marshmallows, and instead tucks into a healthy diet of fruit, vegetables and plenty of exercise.
She arrived at Monkey World in Dorset last year from South Africa.
Oshine was previously kept as a pet in Johannesburg for 13 years.
'Morbidly obese'
Her sedentary and unnatural lifestyle meant her weight rocketed.
But following work by keepers at the rescue centre, Oshine has lost a fifth of her weight, is exercising, scaling a 20m (66ft) climbing frame and has even adopted an orphaned baby orangutan named Silvestre.
"With Monkey World's help, Oshine has turned her life around," said director Alison Cronin.
"When she arrived at the rescue centre she was morbidly obese and ran the risk of developing heart disease, blood clots, high blood pressure, and diabetes."
Ms Cronin, who said Oshine had been the fattest orangutan in the country, said staff had removed all sweets and processed foods that she used to be fed in addition to her normal diet.
But she said Oshine still needed to lose another 20kg to 30kg (3 to 5 stone) before they will be comfortable with her fitness and health.
"I hope that by the end of this year Oshine will have lost enough weight that we can introduce her to one of our adult groups of orangutans where she will be able to have her own baby, but until she loses more weight it would not be healthy for her," she added.
Monkey World is home to Europe's only orangutan creche.