Ambulance fire closes A338 Bournemouth Spur Road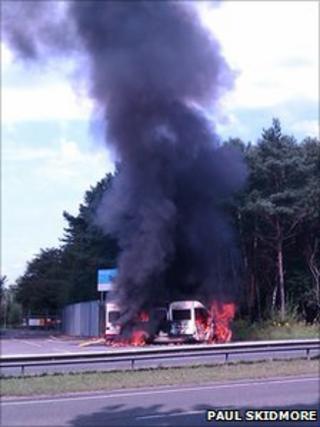 The main route into Bournemouth was closed in both directions after an ambulance with gas cylinders onboard caught fire on the northbound A338.
A 100m (328ft) exclusion zone was set up around the vehicle, near the Blackwater junction, as the cylinders were in danger of exploding.
Road blocks were put in place with traffic diverted down Matchams Lane but the road has now reopened.
The patient and crew on the ambulance were not injured.
A South Western Ambulance Service spokeswoman said: "Thankfully, the two crew members and one patient on board were completely unharmed.
"An investigation will be carried out into this incident as a priority and the Trust would like to apologise for any inconvenience caused."
A spokeswoman for Dorset Fire and Rescue Service said: "We had three fire engines and a water carrier on the scene.
"Firefighters in breathing apparatus extinguished the fire by using a water carrier to spray water on the vehicle and to cool down the gas cylinders."
Eye witness Paul Skidmore, from Ashley Heath, who was cycling down the A338 on his way to Bournemouth Hospital, said: "There were tailbacks of about a mile-and-a-half before they closed the road."