Twitter used to prevent heath fires in Dorset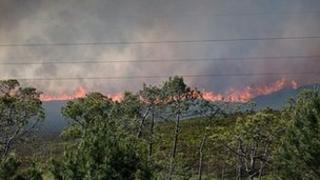 Social networking site Twitter is being used to help prevent heath fires in Dorset.
A new collaboration between the National Trust, Dorset Fire and Rescue and police is encouraging people to tweet about any suspicious activities.
It comes after a fire destroyed one sq km (247 acres) and devastated wildlife on Upton Heath near Poole in June
The National Trust's Laurie Clark said: "Arson and criminal damage are a constant threat to the heaths."
"We know more and more of our visitors carry smartphones so we think Twitter could be a useful new tool in the battle against arson," he added.
The new @NTPurbeck Twitter account has been created for the summer months when the danger of heath fires is at its height.
Sgt Jon McCarthy of Dorset Police said: "We would encourage anyone who witnesses any suspicious activity, either on National Trust land or anywhere else across Dorset, to contact Dorset Police and report it immediately.