Three sailors rescued after racing yacht sinks in Poole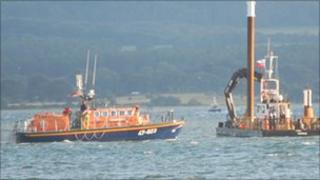 Three sailors were rescued when their racing yacht capsized and sank close to the main channel in Poole Harbour.
The RNLI lifeboat station at Poole launched the Tyne Class all-weather lifeboat and the B class Atlantic 85 inshore lifeboat on Monday night.
The lifeboats were on the scene in five minutes after launching, but on arrival the J22 racing yacht had already sunk.
Crew on board a passing vessel rescued the three sailors from the sea and landed them at Parkstone Marina.
They were met by the crew of the inshore lifeboat who drove them home after establishing they were unhurt.
An RNLI spokesman said: "The all-weather lifeboat marked the position of the sunken yacht until the arrival of a specialist vessel with lifting equipment from Jenkins Marine.
"It was discovered that divers would be needed to assist in the lifting of the yacht and Poole Harbour Authority would co-ordinate those efforts later releasing the all-weather lifeboat to return to station."