Ernie Amey: 'Million pound man' who worked for Unite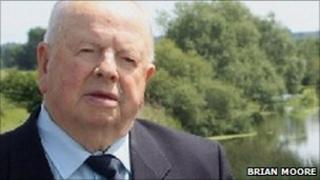 He began his working life pushing carts of dung on a chicken farm.
But for Ernie Amey it was the start of a career which would lead him to become a farmworkers' champion - and help many secure compensation for injuries sustained in their work.
In fact, his efforts may have helped gain more than £4m for the union members he represented.
Yet, it could be said in his first job he had to be an expert in muck rather than brass.
Mr Amey, 88, of Blandford, Dorset, said: "I worked on a chicken farm in the village of Minchington in North Dorset on Saturdays and during school holidays too.
"My feet were ready to drop off by the end of each day because so much walking was involved - pushing dung in a wheel barrow and helping with feeding."
When he left school in the 1930s, Mr Amey found work on farms.
He said: "I did a mixture of ploughing and cultivating the land throughout my career.
"I enjoyed being out in the open - I didn't enjoy the rain and wind, but it was nice when it was sunny."
Mr Amey added: "The biggest change in farming machinery was the machine created to milk the cows - truly life-changing for a farmer."
In 1949, Mr Amey was elected secretary of a branch of the Agricultural Workers Union.
Over time, in his role with the union - which became Unite - Mr Amey's work became more involved with helping members with compensation claims.
The largest settlement he made was for a woman in Wimborne who received £720,000 for a dairy accident.
Mr Amey said: "I liked helping farmers receive compensation for accidents they'd been involved in; from road traffic incidents involving farm vehicles to accidents with farm machinery."
He added: "I don't know whether I ever entirely retired - I still do bits and pieces.
"I used to collect contributions and members still send them to me now to pass on."
His life is now the subject of a book, co-written with Brian Moore, called The Million Pound Man.
Mr Amey said he hopes the book will inspire others to make better use of their time in retirement and "entice" old acquaintances to knock on his door.
He said: "Loneliness is the curse of modern day living for the aged and housebound."