Moscow Olympic sailors demand apology for boycott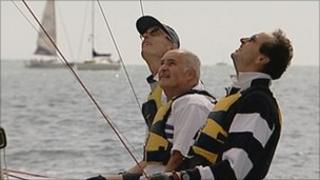 Three Hampshire sailors who missed out on taking part in the Moscow Olympics have demanded recognition and an apology for decisions made in 1980.
The Royal Yachting Association (RYA) boycotted the Games after the Soviet invasion of Afghanistan.
Skipper Colin Simonds said: "We'd love to be included (in 2012) to close the gap in our lives from having our Games cancelled."
The RYA insisted it was "committed to making amends".
The British team were denied a chance to take part in the Moscow Games when the sailing authorities were one of four sports not to send competitors, following a government request in protest at the Soviet Union entering Afghanistan.
Other sports, including athletics, defied the government boycott. Sebastian Coe, now Lord Coe, chairman of the London Organising Committee for the Olympic Games, won gold in the 1,500m.
Eight years' training
The sailors said they have never been given an explanation why the RYA decided against sending a team.
They had trained for eight years in the run up to the 1980 Games, mainly around Weymouth and Portland, the venue for the 2012 sailing events.
They said the US team had been welcomed at the White House and thanked for their "sacrifice" in not competing in the 1980 Olympics.
Chris Osborne, who was middleman in the 1980 team, said: "The most important thing is that the RYA recognise the decision in 1980 was wrong. I would just like them to say 'sorry', anything else they can offer us would be appreciated."
Bowman Gavin Simonds said: "Who knows? We might have won a medal, but that chance was taken from us and we'll never get that back. But to take part in these games in some small way would be delightful."
Sarah Treseder, chief executive of the RYA, said: "We can't turn back the clock. What we are committed to do is making the amends that we can for the team of 1980 - we've been working hard to get something organised for them.
"It's so long ago, and the political situation caused enormous concerns at the time," she added.