Weymouth relief road Bincombe junction to be altered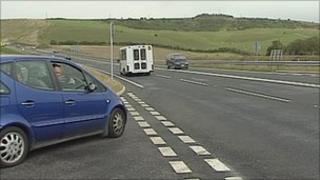 Alterations are to be made to a Dorset road junction after bus companies suspended services over fears about its safety.
They claimed traffic at the new Bincombe junction on the Weymouth Relief Road was too fast for slow-moving buses to pull out safely.
Dorset County Council said it would improve visibility and adjust the kerb line to make the road wider.
A shuttlebus will remain in operation for two weeks while the work is done.
Bus routes between Broadwey, Upwey and Dorchester have been suspended by First Bus, Wilts & Dorset and South West Coaches.
South West Coaches' Michael Adams said: "It is a risk to the travelling public, our drivers and other road users."
Dorset County Council said the junction had been designed in accordance with national highway standards and had been independently audited to ensure that it was safe to use by all motorists.
It will meet the bus companies again after the work is completed.
The £89m Weymouth Relief Road opened in March, carries about 35,000 vehicles every day and is aimed at improving journey times between Weymouth and Dorchester.
It is hoped the road will ease traffic during the Olympic 2012 sailing events, which will be held in the coastal towns of Weymouth and Portland.