Poole RNLI open day interrupted by lifeboat launch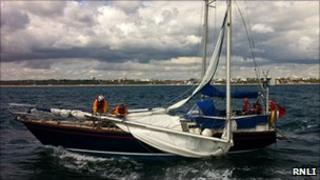 A lifeboat open day in Dorset was interrupted when the RNLI crew was called out on an emergency.
The Poole lifeboat was summoned to a 45ft yacht in difficulties with two people onboard on Sunday.
The crew had to strip bunting off the all-weather lifeboat before launching it off Hengistbury Head.
No-one was injured in the incident and the dismasted yacht was safety towed into Poole Harbour.
Coxswain Jonathan Clark said: "It is a fun day where we can show the general public what we do and to top it all we had a 'shout' so the folks got to see the boat launch for real."