Artist Esther Tyson dives to draw Dorset sea life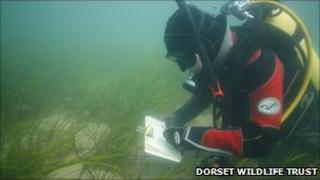 An artist who learned to dive as part of a project to draw Dorset's sea life has begun sketching what she sees.
Esther Tyson, from Derbyshire, is doing a series of dives off Studland Bay, known to be rich in sea life and home to rare species of seahorses.
She won a bursary from Dorset Wildlife Trust (DWT) and The Society of Wildlife Artists to take part in their art project and fund her diving lessons.
The work produced will be shown in exhibitions in Dorset and London.
While underwater, Ms Tyson sketches using graphite on heavy paper.
"On my first dive, with poor visibility, I felt disorientated and claustrophobic," she said.
"But subsequent dives have revealed a wealth of weird and wonderful creatures in these waters and, with mask-clearing well and truly under my belt, I am finally ready to undertake the most exciting part of this project - painting underwater."
Studland Bay is home to spiny and short-snouted seahorses and the endangered undulate rays.
Peter Tinsley, of DWT, said: "Undersea wildlife is inaccessible to most people and, because of that, overlooked and undervalued.
"We can't get everyone to go underwater to see for themselves but we're really lucky in being able to literally immerse an artist in the marine environment."