Dorset woman's bid to run 1,100 miles in seven weeks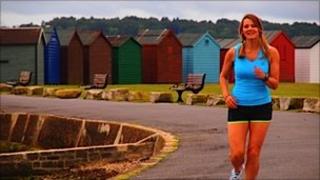 A woman from Dorset is to run the equivalent of 42 marathons in seven weeks to raise awareness of mental health and the importance of nutrition.
Vicky Willan, who works as a dietician in St Ann's Hospital in Poole, plans to run 1,190 miles (1,915 km), covering 26 miles (41.8 km) a day over seven weeks.
Ms Willan said: "I'm very excited and quite anxious but I'm fit and healthy."
She leaves Dorset on Wednesday and begins her run from Tongue, in the north of Scotland, on Saturday.
She said she has prepared for the challenge by completing the Edinburgh marathon last May, as well as having her running analysed by sport scientists at Bournemouth University, who have given her specific exercises to help her body cope with the run.
Significant route
Her job advising on diet for patients living with mental health issues has been her main inspiration, she said.
"I don't want to say it's hard living with a mental illness, but some people do really struggle with it.
"I've worked at St Ann's [a unit for mental health patients] for nearly eight years and what's really apparent is that if you have really poor mental health, it becomes very hard to concentrate on your physical health.
"I wanted to represent the people I work with and waking up everyday with a struggle ahead of you."
Ms Willan, who said one of the reasons she chose to run 42 marathons was because it was her age, will have some help and support from her children, family and friends and NHS colleagues, during her run.
She has planned her route to take in places that have a significance to her, including her university town of Aberdeen; her place of birth in Manchester and Maryport in the Lake District where she grew up.
Ms Willan, who also hopes to raise sponsorship for the charity the Mental Health Foundation, aims to have completed her challenge and be back in Poole by 10 October.