Fuel leak prevents Avro Vulcan flights at airshows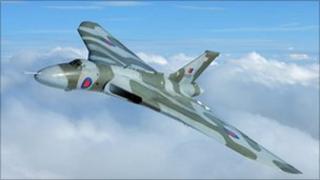 Plans to fly a restored bomber plane at several airshows have been scrapped due to a "technical problem", its operators said.
The Avro Vulcan XH558 was scheduled to fly as part of weekend airshows in Bournemouth, Dawlish, Oxford and Shoreham.
The 51-year-old craft has developed a fuel leak in its tank.
It is managed by charitable group Vulcan To The Sky Trust, which is now repairing the plane.
Andrew Edmondson, from the trust, said: "We have every confidence that the problem is temporary.
"We have a 'safety first' policy which means we only ever fly the Vulcan if she is fully serviceable."
Mr Edmonson said it costs around £2m a year to fly the XH558, and relies on fundraising and income from airshow appearances to fund it.
The XH558 first flew in 1960, and its restoration began in 1997 at a total cost of £7m.
It has been appearing at UK airshows since 2008.