Flash flooding disrupts Bournemouth Air Festival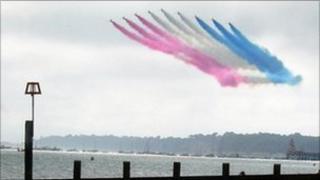 The first air displays of the 2011 Bournemouth Air Festival were cancelled when flash floods hit Dorset.
Flying had been due to begin at 14:00 BST but the afternoon displays were called off.
A dusk air display was due to go ahead from 19:00 BST but was also cancelled. Thousands of visitors are expected in the town for the four-day free event.
It is the fourth year of the air festival, which takes place between Bournemouth and Boscombe piers.
No Vulcan bomber
Attractions include the Red Arrows display team and the Sally B B52.
Live music scheduled to take place in Bournemouth Lower Gardens on Thursday evening, was also called off.
The World's last flying Avro Vulcan had already been pulled out of the event after it developed a fuel leak.
The 59-year-old Vulcan XH558, managed by charitable group Vulcan To The Sky Trust, had been scheduled to fly in Bournemouth, as well as at air shows in Dawlish, Oxford and Shoreham.
Last year's Bournemouth Air Festival attracted about 250,000 visitors a day.
The final day of the 2010 event was also hampered by adverse weather, with some displays cancelled because of low cloud.