Job losses fear over new Canford Bottom road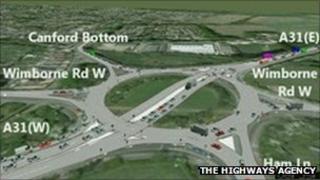 Businesses are warning they may have to make redundancies or close when a major road scheme in Dorset goes ahead.
The Highways Agency is due to spend £5.7m developing the A31 Canford Bottom roundabout, near Wimborne.
The main phase of work is to start in September and is due to be completed in time for the 2012 Olympics.
About 20 small businesses in the area will be affected by the road closures, including those on Ferndown Industrial Estate where 1,600 people work.
The work is expected to take 9 months to complete with some roads set to close for up to 12 weeks.
'Hamburger' junction
The scheme is set to include the construction of a dual carriageway through the middle of the roundabout to link the A31 trunk road.
This so-called "hamburger" junction will have about 70 traffic lights to control the traffic from the A31 and four adjoining local roads.
Colin Bale, from Little Canford Garage Ltd on Wimborne Road West, believes the plans have been "railroaded" through for the 2012 Olympics and the development will be "catastrophic" to local business owners.
He said: "I will have to look at possible redundancies, because the access road to my property will be closed for weeks meaning no one will be able to get to us.
"We know the work is going ahead, but we want some sort of solution to keep the feeder routes open."
Terry Clegg, from local car dealership Hill & Son Ltd, said: "Local business owners have been totally left in the dark with regard to the plans - nobody cares about us.
"If the developers took their time to let the Olympics pass instead of trying to get the interchange finished in time for the Games, they could close one road off at a time.
"Doing it all at once means it's just going to wipe a load of businesses out."
In a statement, the Highways Agency said it aims to minimise disruption during the development, with diversions being put in place to give alternative routes to businesses