Final sections arrive for Poole's Twin Sails bridge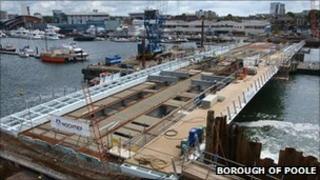 The final steel sections for the new Twin Sails bridge in Dorset have arrived at the construction site.
The main structure of the bridge, being built across Backwater Channel in Poole Harbour, is now almost complete.
Council officials said the final five sections would be assembled in Hamworthy before being installed in September.
A total of 800 tonnes of steel have been delivered to the site since March.
The bridge, which will link Hamworthy and Poole, is due to open early next year.
The bridge will boost road links to 26 hectares of brownfield land, unlocking a large regeneration site where up to 2,000 homes could be built over the next 10 to 15 years.