Dorset sea life study to monitor climate change effects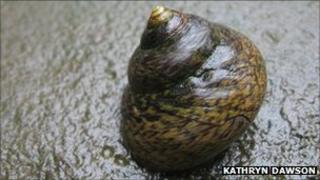 A shoreline survey of sea life species could reveal the effects of climate change, Dorset Wildlife Trust has said.
The investigation will be carried out by volunteers as part of the trust's three year Welly Zone project which began in March.
The project aims to study shallow water habitats accessible by foot and observe the impacts of rising sea temperatures.
It will look at the distribution of species such as toothed topshell sea snails and strawberry anemones.
Nicky Hoar, from the Dorset Wildlife Trust, said: "Some species in Dorset are at the eastern limit of their distribution.
"We need people to help us find out where these are in Dorset now so that we can see whether they spread or in fact disappear from Dorset, with the effects of climate change, or change in abundance."
'Priority species'
Toothed topshells have already been recorded at Newton's Cove, Weymouth, Lyme Regis and Osmington Mills.
Mrs Hoar added: "We are also looking at invasive species on the project, including Japanese wire weed, which was also found at Newton's Cove, and priority species such as peacock's tail seaweed and seagrass.
"Priority species and habitats are features that may be at risk of decline for several reasons, so we need to find out how much and where so that we can compare the results year on year, and take action as necessary."
The survey will take place on 10 September.