Dorset 'BioBlitz' wildlife study shows over 700 species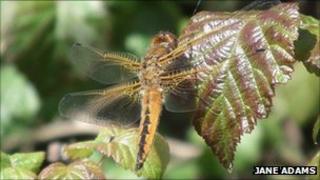 Over 700 different wildlife species have been counted during a study of Dorset heathland, according to the Dorset Wildlife Trust.
The 12 hour "BioBlitz" study at Corfe Mullen recorded 762 species, which the trust says is one of the highest figures for the UK.
BioBlitz surveys are organised by the Bristol Natural History Consortium, and 11 have taken place in the UK in 2011.
Corfe Mullen was chosen because of its diverse range of habitats.
Nicky Hoar, from the Dorset Wildlife Trust, said: "It's a particularly diverse area of Dorset because of the heathland area, mixed with the rich woodland gardens, meadows, streams and the River Stour."
'Very impressed'
From a total of 1,674 sightings by experts and local residents, 320 different flowering plants, 75 moths and 14 mammals were recorded.
There was also a sighting of the rare, scarce chaser dragonfly and the heather ladybird, which is not seen very often in Dorset and was discovered by the A31.
Mrs Hoar said: "We're very impressed with the figure. It shows the richness of wildlife in the east Dorset village."
The event, which took place on 28 May, was jointly organised by Dorset Wildlife Trust and Nature Watch Corfe Mullen, and supported by the East Dorset Community Partnership.
Mrs Hoar said: "The results have taken so long to collate because the study consisted of hundreds of photos and each one had to be identified separately."
Sites targeted on the day included Dorset Wildlife Trust's Upton Heath reserve, private land on the banks of the River Stour, private gardens, the Village Hall and Corfe Mullen Recreation Ground.
Nikkii Hesketh-Roberts, conservation assistant at Dorset Wildlife Trust, said: "These results prove beyond doubt that our villages, towns, gardens and public spaces are vitally important for nature.
"The information gained from the BioBlitz will help protect wildlife across urban and village areas right around the county."