Dorset beach lifesaving equipment stolen from RNLI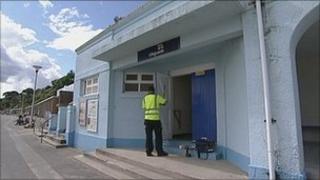 Lifesaving equipment worth £2,000 has been stolen and vandalised after a break-in at a Dorset lifeguard office.
A first aid responder bag and equipment was taken overnight on Friday and dumped in the sea at Canford Cliffs.
Two-way radios, a heart defibrillator and a charity collection tin were also stolen.
The RNLI said lifeguards were properly trained to use a defibrillator but it could be "potentially dangerous in the wrong hands".
All the equipment was paid for through public donations.
Lifeguard manager Simon Crayfourd said: "It is fortunate that we are fully prepared and have been able to get replacement equipment to the area almost immediately in order that the lifeguards can continue patrols as normal, but this could have put lives at risk.
"This is extremely frustrating. The RNLI is a charity and as such this vital lifesaving equipment has been paid for through public donations, this along with the theft of the collection box has not only affected the RNLI but also the charity's generous supporters."