PS Waverley steamer may tour south coast for last time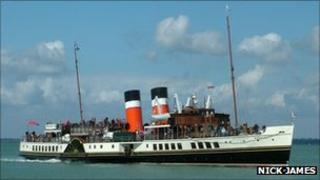 PS Waverley, believed to be the world's only sea-going paddle steamer, is heading for the south coast amid fears this may be its last touring year.
An appeal was launched this summer to help raise £350,000 to secure the future of the charity-owned ship, and some £160,000 still needs to be raised.
The highlights of the 2011 tour include cruises along the Jurassic Coast and round the Isle of Wight.
The ship, built in 1947, arrives in Weymouth on Wednesday.
PS Waverley's first passenger tour of the south coast 2011 will take place from Weymouth on Friday.
It will also sail from Swanage, Bournemouth, Southampton, Portsmouth and Yarmouth.
Passenger figures for the steamer have increased by 32% on last year, and in July, 32,000 passengers travelled on the ship.
'Historical importance'
Nick James, chairman of Waverley Steam Navigation Company Limited which operates the ship, said: "Passenger numbers are up, which is fantastic.
"However, we also need our supporters to make donations in order to ensure this historic ship can sail again next year.
"Waverley is unique and is steeped in historical importance. She and her sister ship Balmoral are now the only ships in the UK offering traditional day trips to sea."
PS Waverley has carried over five million passengers in the 36 years since it was sold to the Paddle Steamer Preservation Society for £1.
The steamer operated as a commercial vessel from 1947 until 1973 and has been operated by Waverley Steam Navigation Company Limited since 1975.