Coastguard helicopters grounded over tail rotor safety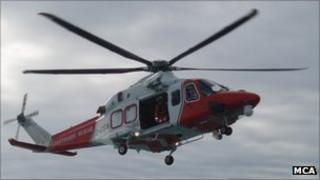 Two coastguard helicopters have been grounded following fears over the safety of the model of aircraft.
The European Aviation Safety Agency (Easa) ordered the replacement of rear rotor blades on AW139 helicopters after a crash off the Brazilian coast.
Dorset's Portland helicopter, and a back-up aircraft at Lee-on-Solent, Hampshire, are unable to fly until new blades are fitted.
A Coastguard spokesman said rescue capability would be unaffected.
Easa issued its emergency airworthiness directive on the AW139, made by AgustaWestland, after the crash on 19 August. It said all blades with more than 600 flying hours should be replaced as a precaution.
The main coastguard helicopter at Lee-on-Solent has already had the work completed.
A Maritime and Coastguard Agency spokesman could not confirm when the parts for the aircraft would arrive.
He said coastguards at Portland could draw on helicopter support from Lee-on-Solent, Royal Marines Base Chivenor in Devon or Royal Naval Air Station Culdrose in Cornwall.
The AW139 helicopters were added to the coastguard fleet in 2008. They can fly at a cruising speed of 140 knots with a top speed of 167 knots.