Bournemouth Pier to Pier: Missing swimmers 'went home'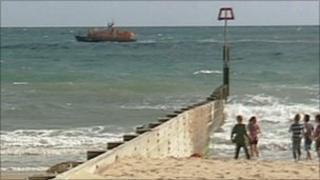 A major sea search was mounted after a number of swimmers forgot to check in after a charity event in Dorset.
Three lifeboats and a helicopter were alerted when nine people were reported missing at the Bournemouth Pier to Pier swim at 14:00 BST on Sunday.
Emergency crews and an onshore search team spent two hours looking for the swimmers before the search was ended.
By then, eight were found to have gone home and the ninth confirmed safe at 20:00 BST.
'Simply forgotten'
Watch manager Maddy Davey said: "Obviously with nine swimmers missing, it was a matter of great concern.
"We wouldn't deter people from raising the alarm, but lessons were learnt for organisers and participants to check-in at the end of the event."
Participants had been swimming in the sea between Bournemouth and Boscombe piers to raise money for the British Heart Foundation (BHF).
Organisers alerted the coastguard shortly after 14:00 BST when a head count showed some people were missing.
Andy Coles, BHF event organiser, said: "After a full search utilising three lifeboats, a coastguard helicopter and a coastguard rescue team, they were, in liaison with the event organisers, confident that all participants had finished the event.
"We also immediately phoned the swimmers and most had simply forgotten to check in and gone home without notifying event organisers."
More than 1,000 people took part in the annual Pier to Pier swim which attracted people from across the UK.