Dorset's Upton Heath 'rises from ashes' after fire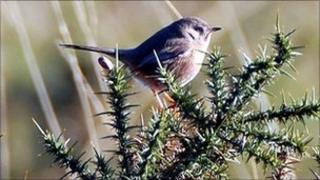 New funding is helping a Dorset nature reserve "rise from the ashes" three months on from an arson attack, according to Dorset Wildlife Trust.
The trust said a third of Upton Heath was devastated by a fire in June which was Dorset's largest heath fire for 35 years.
Residents and supporters of the heath have raised £39,000 to help restore it.
The funds will pay for better fire defences and a 'Heathwatch' neighbourhood watch-style scheme.
It will see local volunteers working alongside the wardens.
The trust, which manages the reserve, said volunteers would be briefed on what potential problems or suspicious behaviour to look out for and who to contact.
It is also hoped they will act as a deterrent to potential arsonists.
Other proposed work includes extending the use of grazing animals to manage the habitat and increasing the network of fire defence lines.
Andy Fale, a Dorset Wildlife Trust warden, said: "Upton Heath is damaged but it is by no means dead.
"The large unburnt area is looking fantastic this year and is providing a home for birds such as Dartford warbler, which were forced to look for new territories."
Six whole warbler territories and parts of six others were lost during the fire, according to the trust.