Tribute in Commons to Red Arrows pilot Flt Lt Jon Egging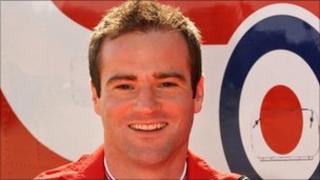 Tributes have been paid in the Commons to the Red Arrows pilot killed at airshow in Dorset last month.
Flt Lt Jon Egging, 33, from Rutland, died when his Hawk T1 aircraft crashed into a field in the village of Throop, near Bournemouth Airport, on 20 August.
He had earlier been taking part in a display at the Bournemouth Air Festival before getting into difficulties.
Tobias Ellwood, Conservative MP for Bournemouth East, said Flt Lt Jon Egging was a brave man.
He told the Commons: "Rather than eject from his stricken aircraft he was able to manoeuvre it [the aircraft] away from a built-up area - an action which probably cost him his life."
Served in Afghanistan
The Leader of the Commons, Sir George Young, endorsed the sentiments, saying: "I'm sure the whole house would like to associate themselves with the tribute that my honourable friend has just paid to Jon Egging who sadly lost his life a few weeks ago.
"In addition to his work for the Red Arrows, he's also seen active service in Afghanistan and I think that should be remembered as well."
Flt Lt Egging's plane crashed in a field and came to rest on the banks of the River Stour as he tried to steer the aircraft away from houses close by.
Following a period of mourning, the Red Arrows have begun their public displays again.
They performed their first public aerobatic display since the crash in Chatsworth, Derbyshire, on Friday and flew in the famous diamond formation leaving a space where Flt Lt Egging would have flown.
The team were due to fly at the Guernsey Battle of Britain Air Display and Jersey International Air Display on Thursday and will also attend the Morecambe Seaside Festival in Lancashire on Sunday.
An inquiry into Flt Lt Egging's death has been ordered and the crash is being investigated by the Military Aviation Authority.
A post-mortem examination showed the cause of death was multiple injuries.
The Red Arrows have used the dual control BAE Systems Hawk T1 aircraft since 1979.