Draft 'master plan' for Poole port and harbour released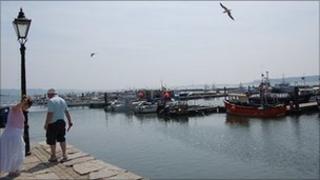 A draft "master plan" for Poole's port and harbour has been released for consultation, according to Poole Harbour Commissioners (PHC).
The plan, which covers the next 20-30 years, includes a potential wind farm, business park and marine centre.
Harbour users and residents can lodge their views on the plan over a 20-week period.
The Department for Transport has requested that all major UK ports compile a master plan.
The plan sets out the existing status of the harbour and the Port of Poole, which as a trust port receives no public funding from central or local government.
PHC said it had to look for new ways of bringing money into the port in order to ensure "long-term sustainability".
Jim Stewart, chief executive officer for PHC, said: "The plan also explores current activities and explains the major environmental issues and sensitivities of the harbour."
A drop-in exhibition takes place at the annual Windfest event in Sandbanks on Saturday and Sunday.
Consultation for the plan closes in January 2012.
The final master plan will be compiled in early 2012 and will be reviewed on a regular basis, said PHC.